BenchMaster 8
The BenchMaster 8 Electronic Filter has been the industry standard for analog filters for over 50 years.
A versatile 2 channel bench top filter, gain to x500 (+54 dB), interface (Usually ex-stock)
Filter cut-offs from 1 Hz to 127 kHz
254:1 adjustment of cut-off frequency
Gain in 1,2,5,10,20 steps to x 500 (+54dB)
Signal level indication
Filter bypass
Range of Standard Filter Responses
2 Rugged Racks, AC or DC power
Single ended / Differential / IEPE inputs
Interface option
Input overload indication
BNC inputs & outputs
Usually ex-stock

Kemo's market leading BenchMaster 8 electronic filter series are now in their 5th generation. Two channels of high performance analogue filter, x500 gain, signal level indicator in a compact, solid 1U high package. This versatile instrument is the standard for laboratory and industrial filtering. Providing a reliable general purpose filter amplifier with a frequency range and filter responses to suit virtually all applications. BenchMaster 8's use specially manufactured components to ensure close tolerances and good channel matching. The latest version is a complete redesign, giving improvements in signal to noise ratios, overall noise, and a clearer front panel. Modern manufacturing techniques allow us to offer quick deliveries. The BenchMaster 8 electronic filter uses no fans, and is silent in operation.
Full Specification
Channels
2 per unit (independent)
Control
All functions by front panel switches.
Optional: External Control, 10BaseT text based FICL II Interface.
Frequency
0.01 Hz to 99.9 kHz, in 5 ranges
Gain
1, 2, 5, 10, 20, 50, 100, 200, 500 (+54

dB

)
Filters
Switchable Highpass / Lowpass
Filter Responses
6 types. 4 and 8 Pole

Butterworth

803, 805 , 4 and 8 Pole

Bessel

07, 09,
(see note) General Purpose 41, and Sharp

Elliptic

813.
Filter Bypass
Yes
Filter Modifiers
Flat,

Butterworth

, Pulse (not all operate with all filter reponses)
Signal Invert
Yes
Input Coupling
AC / DC (Matched

AC Coupling

on Differential Input)
Input Mode
Single Ended / Differential
Input Overload
Absolute Input Overload Indication (Single Ended or Differential)
IEPE
4 mA 24V Current Source with 3 stage transducer indicator, correct, short circuit, open circuit
Signal Level
+/- 10V pk-pk. (Typically with 20% 'headroom')
Signal Offsets
+/- 50% on Output, +/- 50% on Output Single Ended only. Factory Fitted Option.
Signal Level Indication
3 Colour, 4 Signal Levels,
Size
1U 19″ x 350mm (13.8″)
Power
90 – 120 / 180 – 240 VAC 50/60Hz
Optional 9 – 30 V DC, with AC 'power brick'
Frequency Range 0.01Hz to 99.9kHz
The BenchMaster 8 electronic filter offers a cut-off frequency range from 0.01Hz to 99.9kHz. Frequency is set with three rotary decade switches and a 5 range rotary switch.
The BenchMaster 8 uses 3 rotary switches 0-9 and a rotary switch to set frequency range.
0.01 to 9.99Hz in steps of 0.01 Hz, lowpass or highpass.
00.1 to 99.9 Hz in steps of 0.1 Hz, lowpass or highpass.
001 to 999 Hz in steps of 1 Hz, lowpass or highpass
010 to 9 990 Hz in steps of 10 Hz, lowpass or highpass.
100 to 99 900 in steps of 100Hz, lowpass or highpass.
Lowpass / Highpass
Each channel can be independently set to high or low pass, over the range 0.01 Hz to 99.9 kHz.
Flexible Input
Single ended or differential input can be set, with overload indication on the input signals. Input signals can be DC or AC coupled, with matched coupling for AC differential input. A 24V DC 4mA source for IEPE transducers is provided, with LED indication of correct operation of the transducer. Green shows correct operation, red shows short circuit, and nothing indicates open circuit.
Input Gain
The BenchMaster 8 has up to x500 (+54 dB) in two precision stages of input gain.
Precision differential amplification of x1, 2, 5 (0,+6,+14 dB) controlled as one front panel switch, then x 1, 10, 100 (0,+20,+40 dB) as a separate switch control. This combination gives an easy to use total of x500 (+54dB). This gain good amplification of small signals. The amplification is applied to the signal before the filter stages. The filter stages can be bypassed, so the BenchMaster 8 can be used as a pure amplifier, and if required the two channels can be linked in series to give x 250 000 (+108 dB) gain.
x1 (+0dB), x2 (+6dB), x5 (+14dB), x10 (+20dB), x20 (+26dB), x50 (+34dB), x100 (+40dB), x200 (+46dB), x500 (+54dB)
Signal Level Indication
BenchMaster 8 filters have a signal level indication LED fitted to each channel between the input gain stages and the filter.
Signal level indication – 0%- off -10% – green – 70% – orange – 95% – red.
Switchable Response Modifiers
Each BenchMaster 8 has 3 filter modifier settings.
Three Switchable Response Modifiers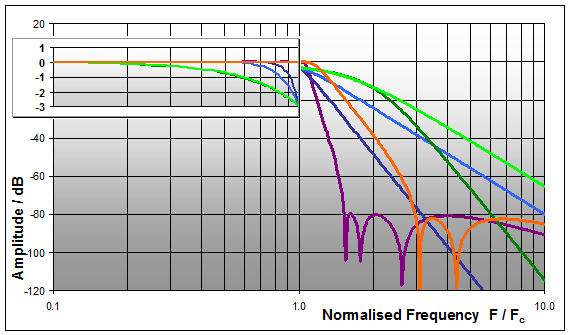 Butterworth – provides a -3dB at cut off type response, the normal operating position for the Butterworth response 8.03 and 8.05.
Flat – a flattened amplitude response up to the cut-off frequency, the normal operating position for responses 8.13 and 8.41.
Pulse – a minimum overshoot response, the normal operating position for the Bessel response 8.07 and 8.09.
The use of these modifiers makes for a very versatile filter, especially when coupled with the Series/Parallel mode. For Butterworth filters (8.03 and 8.05) the use of the flat setting allows 2 filters in series to provide correct shape double strength filters. Without these modifiers 2 Butterworth filters in series would have -6dB at cut off, but with one filter in the series, set to 'flat' the correct -3 dB at cutoff is maintained. This allows 96 dB/octave Butterworth filters to be set on a BenchMaster 8.03.
NOTE not all modifiers work with all filter responses.
Series/Parallel Operation
The two channels of the Benchmaster 8 electronic filter can be used separately, or in parallel/series operation.
The two channels of the BenchMaster 8 can be used in three connection modes:-
Separately – each filter operates independently of the other.
Series – the signal enters channel 1 and then channel 2 in series, this is used for bandpass filtering, and 'double strength' filtering using both filters set the same.
Parallel – the two channels operate in parallel, this used for band stop and notch filtering.
The use of series and parallel filter connection, with the filter modifiers and the gain, give for a very versatile set of filter shapes and possibilities from the BenchMaster 8.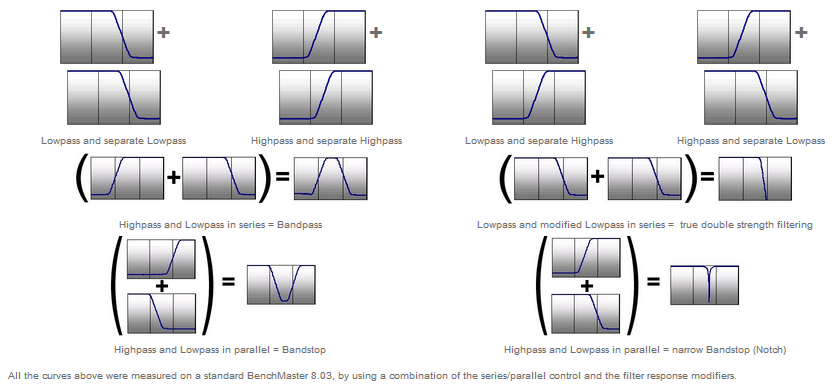 Easy Manual Control
The BenchMaster 8 is designed for easy manual operation.
The controls are laid out in an easy to understand logical way. All manual controls are on the laser cut and laser etched front panel. Bearings are fitted to the control knobs to ensure smooth long life operation. In most cases the operation of the BenchMaster 8 is intuitive. Some of us at Kemo have been filter users, we have used Kemo products on site late at night cold and tired, so we like to keep things simple and easy to operate.
Block Diagram of BenchMaster 8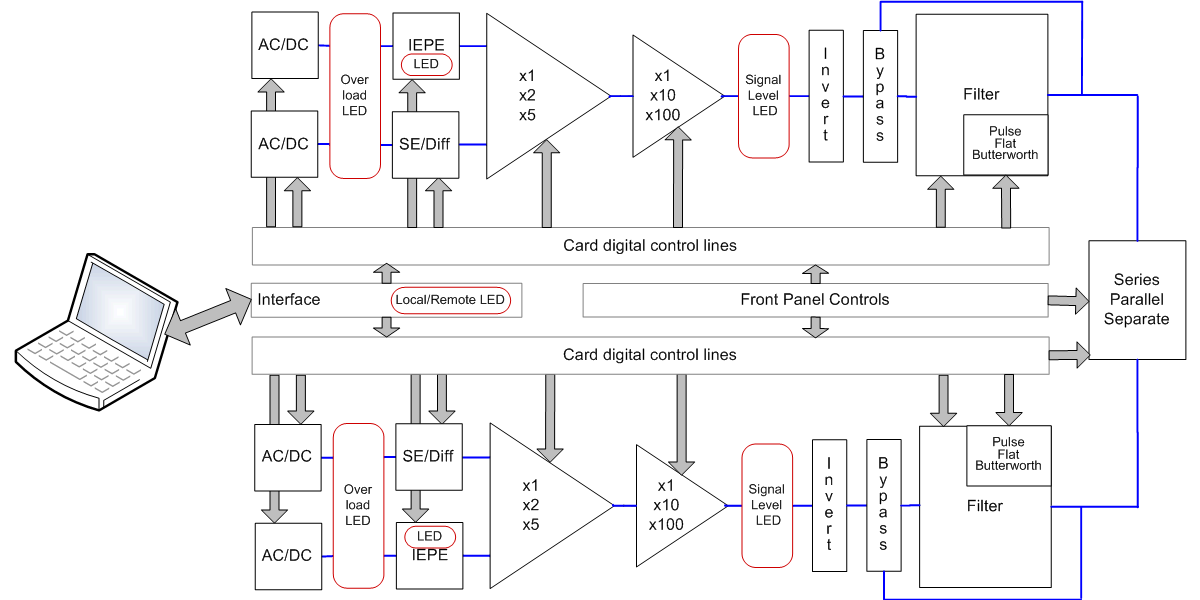 Optional External Control
BenchMaster 8 units are fitted with control logic for the optional Kemo FICLII interface for external computer control.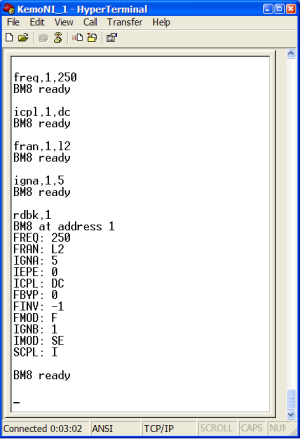 This is a text (ASCII) over a 10BaseT, RJ45 plug, Ethernet style hardware interface. This provides an operating system independent interface. The interface stores current data, verifies incoming commands, and then executes them.
Simple text commands are used, the screen image shows typical commands sent via HyperTerminal.
freq,1,250 – sets channel 1, frequency to value 250
icpl,1,dc – sets channel 1, input coupling to DC.
fran,1,L2 – sets channel 1 to range L(lowpass) 2 (102 )
igna,2,5 – sets channel 2, input gain block A to x5.
rdbk,2 reads back all the current settings for channel 2.
The RDBK (readback) command gives a listing of all the commands.
RDBK,A will readback all the settings for both channels.
Typical response time to send commands to one channel and implement the settings is about 200mS. The RDBK files can be stored as text files, so test setups can be stored for measurement audit purposes.
Filter Responses
The BenchMaster 8 has six filter models and filter responses.
BenchMaster 8.05 – 4 Pole Butterworth response 24 dB/Octave. ( Data sheet Response 8.05 )
BenchMaster 8.03 – 8 Pole Butterworth response 48dB/Octave. ( Data sheet Response 8.03 )
BenchMaster 8.09 – 4 Pole Bessel response NOTE the filter modifiers Flat and Butterworth are not available with this response
BenchMaster 8.07 – 8 Pole Bessel response NOTE the filter modifiers Flat and Butterworth are not available with this response
BenchMaster 8.41 – General Purpose, very flat to cut off, linear phase.
BenchMaster 8.13 – Sharp Elliptic type filter. -93dB at twice cutoff. ( Data sheet Response 8.13 )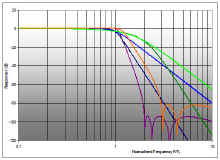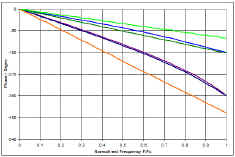 Optional DC Power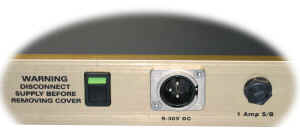 9-30V DC input is available as an option. Power input by 'XLR' type connector, with an AC 'power brick' to power the unit from mains when available.
Please check our page about DC Power
Other Features
The BenchMaster 8 is manufactured using the latest surface mount technology, independent linear power supplies for the logic and analogue circuits. The BenchMaster 8 is housed in a solid aluminium case, ready for rack mounting, and with handles which protect the front panel controls. The front panel is laser cut and marked stainless steel, and most of the internal and external fasteners are stainless steel, vibration resistant where possible. It is even possible to turn off the LED indicators, for use in dark optical laboratories. This latest version is a complete redesign, and one that all the staff at Kemo have contributed to, it is a product we feel proud of, and after over 40 years of building filters one that has considerable expertise built into it.
Ordering Information
Please order as:-
BenchMaster 8.05, 4 pole Butterworth
BenchMaster 8.03, 8 pole Butterworth
BenchMaster 8.09, 4 pole Bessel
BenchMaster 8.07, 8 pole Bessel
BenchMaster 8.13, 8 pole sharp anti-aliasing type filter
BenchMaster 8.41, 8 pole general purpose linear phase filter
SPECIAL NOTE – a BenchMaster 8 can be supplied with any two filters from the above selection, so a unit can be supplied with one 8.03 channel and one 8.41 channel.
Please specify if Optional Interface or DC power is required.
For more information please contact us.